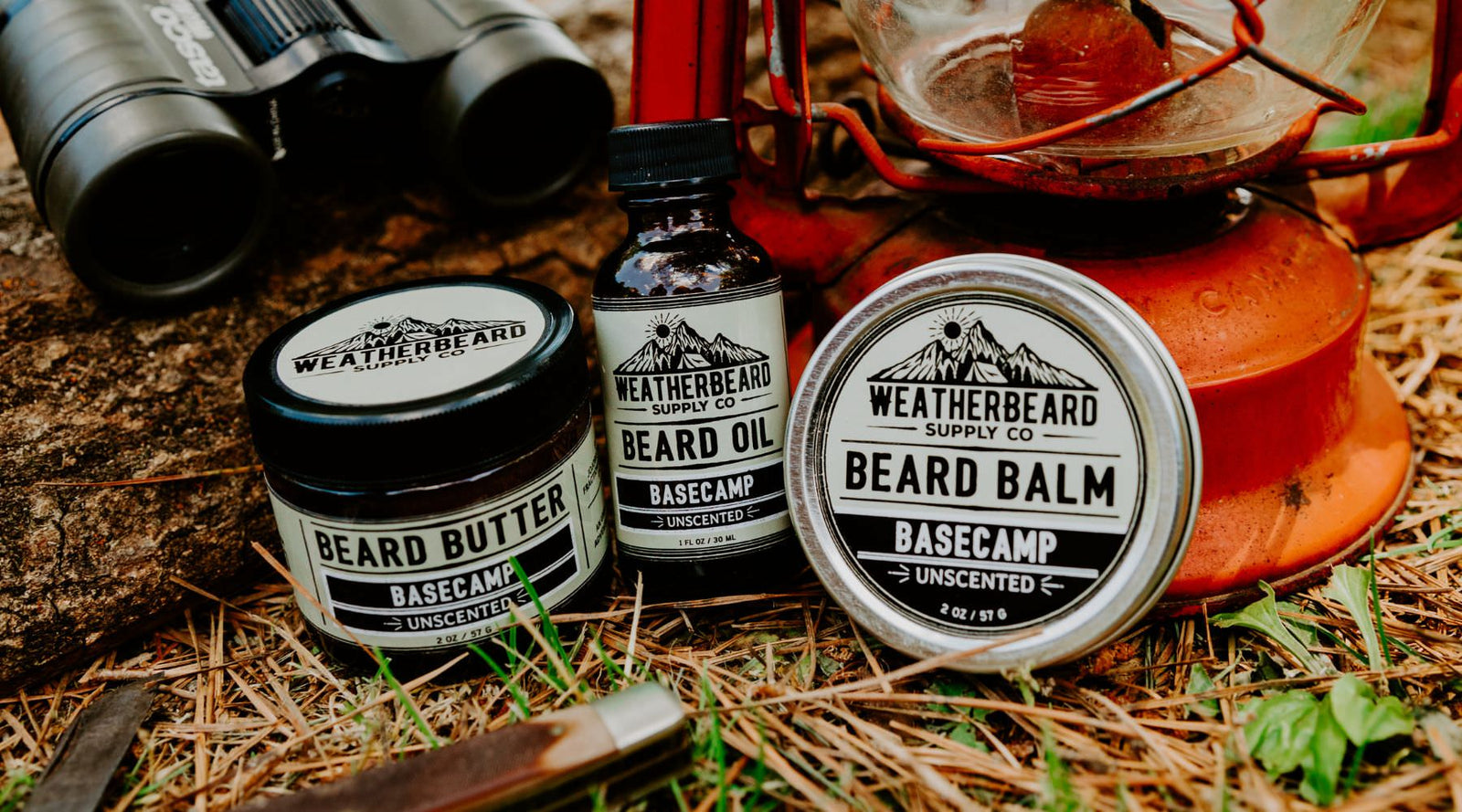 I Used Beard Products For 30 Days & This Is What Happened
Want your beard to feel, look, and smell better? Then use beard products. That's the simple takeaway from my 30-day journey with Weatherbeard. 
I, like many of you, had never used any form of official beard product before jumping aboard the Weatherbeard express. I just figured I could let nature take its course for the most part and use whatever soap I already had in the shower for my face.

So what made me give beard oil, beard wash, and beard balm a try? I grew up. I learned to accept help. (I'm getting better at taking care of myself.) And most importantly, I wanted my beard to actually match the image I had of myself in my mind.
Majestic. Masculine. Full. Dignified and durable. Glorious in every way.
I came to the realization that my current beard simply did not match the above description. It was… it was fine. So I tried Weatherbeard Supply Co. products for 30 days to see how I'd look, feel, and smell, and this is my story!
What Gave Me The Initial Push
Actually, it was my barber who inspired this journey. My whole life, I'd just had friends, moms, and girlfriends cut my hair (yeah, I'm cheap). But once moving and getting married to a lovely woman who decidedly does not cut hair, I had to sack up and head to a proper barber.

During a recent cut, Armando asked if I wanted a beard trim as well.
"Sure, why not?" I said, and he got to work with the clippers.

That was my first realization — using a professional instead of my own crappy clippers at home could make SUCH a difference. It was trimmed, the lines were clean, and the pesky fliers were gone. Things just looked good. I looked good. My beard suddenly matched my face shape rather than sat on top of it. 
So I took things a step further.
My Beard History
Ever since I graduated from high school where I would get an in-school suspension for not being clean-shaven, I've had some measure of facial hair. It's gone from what everyone starts with — sad, scattered whiskers, to a fairly full, amber-brown face shield that I can stroke when I'm thinking, keeps me cozy, and makes me look like I belong in the outdoors.

It's been along for the ride from my late hockey-playing teens through my struggle-for-identity-and-maturity 20s into my decently successful transition to adulthood and growing-a-family 30s.
I've summited mountains on four continents, touched numerous seas and oceans, and caught crumbs and froth in pubs and cafes near and far. It's different now, of course, but it's part of me, part of my identity, literally part of my face. 
I genuinely don't know the status of everything underneath. Hope you're well, face skin.

Hope you're even better now.
Product Arrival & Routine
For my first tour with beard care, I decided to keep things fairly simple. I ordered the beard oil sample kit, beard wash, and beard balm. I figured the scents in the oils would have that department covered while I learned which fragrance I liked best. Therefore, the wash and balm could be unscented.

It's funny — even just unboxing the products, I felt a tinge of accomplishment, like I was taking another tiny step toward true manhood. Now that I had beard products, I really had a beard. I'd finally committed to it nearly 20 years after letting it grow.

Then, I hopped in the shower and put the wash to the test. Previously, I'd use my shampoo/conditioner combo on my face and it left it feeling only slightly washed. The conditioner didn't seem to soften it like I thought it would. It didn't lather into my beard as well as it did on my head.

But right away, the beard wash and conditioner felt different. Perhaps I was just so more present and in the moment, not running through the daily motions, but I really lathered it in there and gave my face a good massage. It felt like I was giving a decades-delayed gift to my beard for the first time. 
It felt good.
Post-shower, it was time for phase two.

I popped open my tin of sample oils and grabbed Timber Trail, which said it was a mix of redwood, birch, and soil. Was I putting bark and dirt on my face? I don't know, but I love big trees and the forest, so it seemed like a great fit to begin my journey.

It smelled fresh, woodsy, slightly sweet, and earthy. Like when you emerge from your car at the trailhead and take that first deep breath. I dabbed a small amount on my fingers and worked it into my beard. It felt oily, but not in the "haven't showered in a few days" way. It held the moisture in my beard nicely and still left me feeling clean.

Finally, the coup de grace, the beard balm. I scraped it away with the back of my thumb as instructed, worked it between my hands to warm it and break it down into a smoother substance, then on into my beard and skin below. I grabbed a comb to evenly distribute the oil and balm and admired my reflection.
My beard had shape, no fly-away hairs, and a finished sheen. The process was enjoyable — a manly ritual I could get used to. It added maybe three total minutes to my morning. Time I could spare. Time I now found to be valuable.

To spare you the mundanities of the entire month, I more or less repeated this process for the next 30 days. Sometimes it hit in the afternoon, before going out, or before hopping on a Zoom call. I missed a day or two but mostly stuck to the full 30-day experiment.
Here's what happened.
What I Noticed After Using Beard Products For 30 Days
1. My Beard Felt So Much Better
The biggest difference for me was the feel. My previous beard felt kind of dry, a little rougher than I'd like, and overall just not great.
Now, it felt so much softer, and I noticed a difference within days. Seriously. My 1-year-old daughter loves rubbing up against my beard. My wife has noticed, too.

I find myself running my fingers through it so much more often. It now has the feel I want it to. Here, I credit the combination of wash and oil for the change, and that makes sense, as they are designed to help your beard from losing its moisture and drying out — the key to a healthy beard.
2. It Smells Good
I've transitioned through a few different scents from my sample kit (Lakeside Lodge is my favorite), but the aromas have all been enjoyable.

Before, my beard would smell like whatever last got in it. The onions from a burger, campfire smoke, sweat from a hockey game, etc. Yeah, mostly gross, I know.

Now, the oils bond to the hair and stick around. It actually gives me a bit of a confidence boost. I smell good all day, mostly! Again, my wife has noticed. (She loves Lakeside Lodge too, FWIW.)
3. It Looks Healthier
It now looks like I have a well-nourished and hydrated beard — because I do! The beard products do their jobs as advertised and give me a moist, healthy-looking beard. I'm no longer a haggard, wind-swept pirate. I'm a seasoned outdoorsman who looks like he can give you directions wherever I am (I can't).

Point is, my beard looks a bit fuller. Stronger. Manlier. I've gained compliments from hockey teammates, dog park friends, and even my brother-in-law. I've got the beard I want and the beard I'll keep. And now I know just how to do it. 
Verdict: Will I Continue Using Beard Products?
Yes, absolutely. I've added the wash and oil to my daily morning routine. The balm I mainly use when I'm going out or have work calls/meetings. They add only minutes to my days and provide value well beyond their measure. 
I feel more confident, smarter, handsome, and masculine. My beard feels, smells, and looks better. 
Yours can too. Remember: Using beard products makes you more of a man, not less. You wash your hair, you wash your face, you wash your body, you brush your teeth. Why should your beard be any different?

It's time to become the beard you want to be.


Enjoy the journey, friends. 
- John 
Products I Use: